Christmas is almost upon us and as we start looking forward to twinkling lights and cosy nights by the fireside what better way to ring in the season than with some yuletide music old and new?
We'll be kicking things off in November with a magical concert of 1001 tales in Exeter and Poole. Including music from Tchaikovsky's Christmas favourite The Nutcracker and Rimsky-Korsakov's atmospheric Scheherazade, this is music guaranteed to get you feelings festive.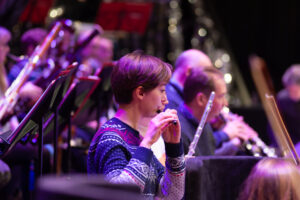 Friday 8 December sees a Christmas Cake Concert at The Spire, Poole. These dementia-friendly concerts feature live music, cake and conversation in a relaxed setting. In light of the time of year this particular concert features a selection of special festive well-known classics for all to enjoy.
Players from the BSO will be travelling to locations across the South West with Christmas tunes aplenty later in December. Join a BSO Brass Christmas Fanfare in Long Sutton, Somerset, on Saturday 9 December and a BSO ensemble for a selection of Christmas favourites on 15 December in Sturminster Newton.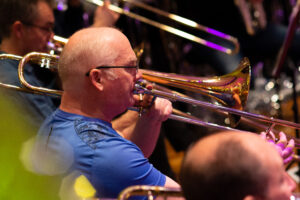 If you're in Southampton on Sunday 10 December do come along to Southampton 02 Guildhall for an evening of Christmas Classics old and new with Roll on Christmas!  The Orchestra will be playing alongside Southampton's finest community choir, BSO Voices. There'll be Christmas classics old and new including Rudolph the Red-Nosed Reindeer, Jingle Bell Rock, I Saw Three Ships and Winter Wonderland, as well as brand new versions of The Coventry Carol and The Little Drummer Boy AND a world premiere of The Christmas Truce (a new interpretation of Carol Ann Duffy's poem) by composer Teresa Barlow.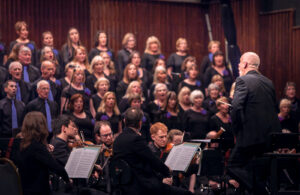 Our ever popular Last Night of the Christmas Proms will be returning in late December for Christmas classics in Poole [16 Dec] , Exeter [20 Dec]  and Portsmouth [21 Dec]. A fun packed concert for all the family, it'll feature a roller coaster of Christmas favourites as well as west-end star James Spilling singing alongside the Orchestra.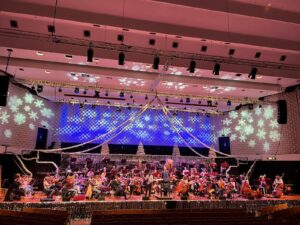 But if a traditional Christmas sing-a-long is more your kind of thing… we've got you covered too! Celebration of Christmas Carols [23 Dec] offers just that with all your favourite Christmas carols wrapped up in one warm and joyous evening. Join Bournemouth Symphony Chorus and Youth Chorus to sing some of the best carols ever written just before Christmas!
And it doesn't stop at there. We're celebrating the New Year with our New Year Viennese Galas in Poole [1 Jan], Taunton [4 Jan], Weymouth [5 Jan] and Southampton [6 Jan] . These joy-filled concerts will welcome in 2024 with the music of Johann Strauss and his contemporaries as well as some special musical treats from our Chief Conductor Kirill's home country of Ukraine. The Orchestra will also be joined by internationally renowned Ukrainian folk singer Ruslana Lotsman, not to be missed…
We can't wait to see you at one of our many events this festive season, for full listings click here.