If you're looking for something different to do this Valentine's Day, why not treat someone special to a concert of classical music? Our performance at Lighthouse, Poole on 11 February shares some of the greatest love stories of all time…
Tchaikovsky's Romeo and Juliet Fantasy Overture retells the events of the classic love story by presenting a variety of characters and moods with the soaring love theme representing the two lovers Romeo and Juliet; in contrast to the chaotic and violent theme which symbolises the two feuding families. Here's a clip of the Orchestra playing the piece…
His Sleeping Beauty Waltz meanwhile is taken from the famous ballet. This is one of Tchaikovsky's best-known waltzes and comes from Act I of the ballet. It is danced by the corps holding garlands of flowers in celebration of Aurora's 16th birthday.
Bacalov's Il Postino theme is a soundtrack to a film which explores themes of love and friendship. This classic is beloved by audiences and Bacalov's music is at once melancholy, hopeful and nostalgic, whilst filled with an irrepressible warmth. If you've seen the film you'll be transported straight to the sun-drenched Italian island where the protagonist Mario spends his days.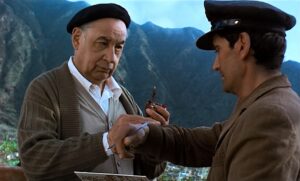 Have you ever received a piece of music as a gift? Wagner's wife Cosima woke up on Christmas morning 1870 to the sound of an ensemble playing a piece written for her by her husband and dedicated to their son Siegfried as a birthday gift. Entitled, Siegfried Idyll the piece is a beautiful love letter to his wife and family and though originally intended to be a private piece, Wagner was forced to sell the piece in 1878 due to financial pressures.
And who can remain unmoved by Puccini's epic Nessun Dorma? One of the best known tenor arias in all opera and made particularly famous by Pavarotti, the piece is sung by the character of Calaf in the opera Turandot. Calaf is an unknown prince who falls in love at first sight with the beautiful Princess Turandot, and the song is a triumphant assurance that he will win her heart. Tenor Christopher Turner joins the Orchestra to sing this piece.
There will also be music from some very moving Italian films such as Morricone's Cinema Paradiso, Mascagni's Intermezzo from Cavalleria Rusticana and much more…
If you have a loved one you'd like to treat to beautiful music played by a full symphony orchestra, come along to Lighthouse Poole on 11 February… we'd love to see you there.