Did you know we have a large sculpture in our BSO offices here in Poole? Made in 1978 by sculptor Diane Gorvin when she was a student, the piece is 4.5m long and is a plaster relief sculpture of orchestra members and associated musicians at the time.
The artwork, which hangs in our office stairwell, was made by Diane when she was an Public Art student at Bournemouth and Poole College of Art. Diane was later commissioned to make two more artworks by the Orchestra, a bronze of Constantin Silvestri and a concrete relief of Sir Dan Godfrey.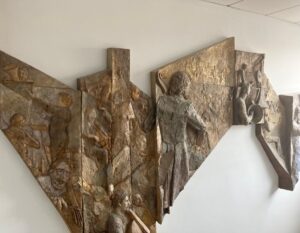 Diane's goal was to provide a snapshot in time as well as make her first full-sized work; enabling her to learn all the processes involved in making it. The piece depicts previous members of the Orchestra and some famous featured soloists, including Kyung Wha Chung and Radu Lupu, with Paavo Berglund conducting. Significantly, the first section features a seated woman listening to the music; to acknowledge the importance of the audience and listener for all musicians. To make the work Diane made many sketches of the Orchestra during rehearsals.
An established Public Artist alongside her husband and fellow sculptor Philip Bews, Diane has created sculptures for the public realm across the UK and internationally —Diane's UK-based clients have included Bristol Zoo, Manchester City Council and the London Docklands Development Corporation. You can read more about her and this piece here, which recently featured an article explaining how the piece was commissioned with the aim of inspiring other young public artists.
We love having this piece here in our offices, inspiring and reminding us every day of those who have gone before!