As a touring orchestra serving the South West of England, we perform across a home territory of over 10,000 square miles. From Explore the Orchestra schools' concerts in Exeter, GCSE events across Devon, to our Exeter Community Family Orchestra, music from Star Wars and a concert in Plymouth featuring star violinist  James Ehnes, there a lot going on across the region!
Exeter Community Family Orchestra ( running 15 Jan- 12 Mar)  
Discover the joy of music-making with our Exeter Family Orchestra. Music is proven to bring social and health benefits to the lives of people, and at the BSO we firmly believe everyone should have the chance to create and perform music with others. Otherwise known as 'the Aubergines' this is an inter-generational group which plays, listens and creates music for 12 sessions across the academic year. Inclusivity is key to the Family Orchestra and it is open to everyone.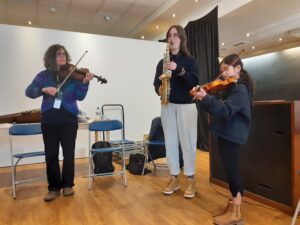 These sessions are led by BSO Musician Emma Welton and members are able to shape the music, explore new ways to create sound and enjoy the social element of music in a comfortable environment.
James Ehnes, Plymouth Guildhall,  Friday 31 March
Coming to Plymouth this March is a concert featuring James Ehnes, whom The Times described as "a violinist in a class of his own". He joins the orchestra to play Prokofiev's Violin Concerto No.2,  a lyrically stunning piece which is both tuneful and romantic (maybe partly because Prokofiev was also working on his ballet Romeo and Juliet at the same time). A beautiful piece with one of the most sought-after violinists on the international stage; this is not a concert to be missed if you're in the area!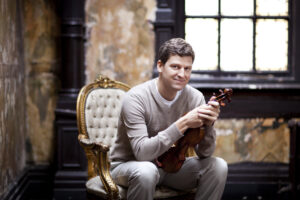 GCSE concerts in Tiverton and Newton Abbott
These concerts unpick 5 GCSE set works including music from Bach's  Brandenburg 5iii, Mozart's Clarinet Concerto, Reich's Clapping Music, Video Game music from Little Orpheus and live composition. A number of schools attend each event and seven musicians play the repertoire which really gives students the opportunity to understand and hear the pieces they're working on for their exams.
Exploring the Orchestra in Exeter…
Our Explore the Orchestra series is a way for primary school students to explore and discover the orchestra. Students meet the different instruments of the orchestra and there are interactive activities which feature body percussion, analysis and a brand-new premiere of a piece. Composer James Redwood shares works for Strings, Wind, Brass and Percussion. Explore the Orchestra has recently been in Exeter where they performed on Friday 20 Jan. Here are some snaps from the concerts…
To go to our full whats on list click here