Dr Jon James has picked some of the musical highlights of our 2019/20 season and guides us through these works, telling us about their rhythmic and harmonic nuances as well as showing us what to listen out for in the concert hall.
Before you watch our Meet the Music Video, here are a few facts about Gustav Mahler: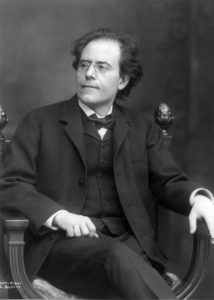 Born:  7 July 1860 in Kaliště, Bohemia, Austrian Empire.
Died: 18 May 1911 in Vienna, Austria.
Gustav Mahler was an Austro-Bohemian Romantic composer, and one of the leading conductors of his generation. As a composer, he acted as a bridge between the 19th century Austro-German tradition and the modernism of the early 20th century, he did this through progressive tonality and previously unused harmonies in his expansive symphonies.
Here we discuss Mahler's Symphony No.1, which features in our Fearless Youth concert, led by Ion Marin on 11 December in Poole Lighthouse and on 12 December in Portsmouth Guildhall.