Marta Gardolińska, the BSO's Leverhulme Young Conductor in Association, speaks about why she decided to become a conductor, her recent appointment and what she hopes to achieve with the BSO.
Why did you decide to become a conductor?
Out of curiosity. I don't come from a musical family, nor did I have an illuminating moment that I could recall and say "and THAT's when I knew I want to be a conductor". I started conducting studies because expressing music through movement felt perfectly natural and necessary to me. I have always liked to lead as well. But the rest of it I've been learning on the go and only gradually understood what the job of a conductor consists of, and that it's something I see myself doing. Looking back, there has been a lot of coincidences and outside influence that pushed me towards conducting and I am thankful for that.
What are your thoughts on being the new BSO Leverhulme Young Conductor in Association?
It is a great honour and a very exciting prospect for me. I think it comes at a perfect time in my development as a conductor. After I finished my studies in 2014 I did some masterclasses with great mentors and spent a couple of years in Vienna, working with good amateur orchestras building repertoire and exercising organisational skills. But already for some time I have been longing to find opportunities to watch great conductors work and to look into the workings of a professional music institution. I couldn't imagine a better place to do so than the BSO. All the staff are really efficient and quick, the musicians are fantastic and lovely – a dream place to be for a young conductor.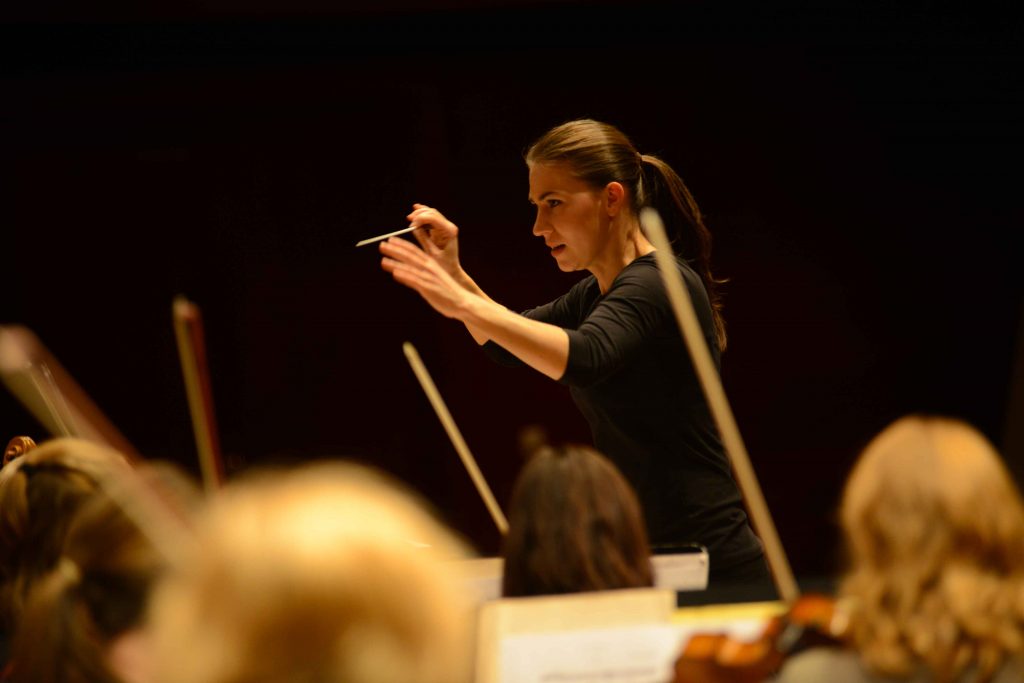 What do you hope to achieve during your time with the BSO?
I am looking forward to short rehearsal periods that will let me exercise proper rehearsal planning and as clear and precise conducting technique as possible. On the administrative side, I hope to learn about organisation. I am sure that watching Maestro Karabits as well as other great guest conductors will be an interesting lesson. And I wish that what I am bringing as a musician – Viennese education and Polish soul – will be welcomed and of use for the orchestra.
What's the one performance from your career that really sticks in your mind?
My first concert with a professional orchestra in 2010 in Poland. It was a student project, so I only got to perform one piece in the concert and it was the Pini di Roma by Respighi. I have prepared like never before. I wrote an essay about Respighi and his work, made an extensive analysis of this particular piece, its musical language, context, inspirations, went through recordings of Italian children songs to find which ones are quoted. I even took a trip to Rome to see all the pines mentioned in the piece. The orchestra was not of the best technical abilities and they never played the piece before, so it was a challenge to make it work, but the energy in the concert was amazing. I could see the musicians having so much fun and I was also fully in the performance, feeling complete freedom.
You were chosen as the Associate Fellow of the Taki Concordia Conducting Fellowship 2017-2019, what has it been like working with and assisting Marin Alsop through this role?
I love and cherish every opportunity to be around Marin. She is a truly inspiring conductor and musician, very unique in her inclusive approach. She is also one of the best teachers I have met – she always makes sure to look closely at the person she is teaching and get to the bottom of their struggle and help. Thanks to her I had the opportunity to assist on a project with The Orchestra of the Age of Enlightenment and it was a lot of fun – I am very interested in period instruments and historically informed performance.
If you could work with one musician, who would it be and why?
This is a very difficult question – there are so many musicians I'd like to work with! I think I could choose one from each instrument. If I have to choose just one, it would be Krystian Zimerman. At the moment he is the one that understands Chopin perfectly and being able to perform one of the concertos (preferably the F minor) with him is a dream.
What advice would you offer to young people aspiring to have a career as a conductor?
I would tell them to develop their musical taste by visiting many different sources of knowledge – different teachers, countries, and repertoire; to try to get a general knowledge about the world, its history and also not lose touch with what is happening here and now and why. To work on precision in expressing their thoughts and emotions, and to respect their own bodies and health by giving it rest and exercise. Everything else can be taken care of by teachers and schools.
How do you prepare for a concert?
Long term by studying scores, planning rehearsals, getting to know famous recordings and traditions. Short term by stretching, breathing exercises, centering techniques.
How have you found your first few months at the BSO?
It has been a very intense and exciting time. I feel that I already learned a great deal and grew as a person and leader. I am very lucky that I get to experience such a wide range of activities and tasks around the orchestra life – from rehearsing and concerts, through listening to the balance, taking care of the backstage music, putting together repertoire, taking part in the activities of the Development team, observing the community that gathers around the BSO – it is all new and fascinating and it feels like it's spot on exactly what I need to do right now to become a better conductor and to prepare for the next step in my career. I knew that this position will be a great thing for me, but I think I didn't expect that so much will happen so soon – I loved being surprised this way.
For the BSO's 'Masters of Melody' concerts in October, you stepped in at short notice to conduct the Orchestra. What was this experience like?
It was simply amazing. I am very, very grateful to the management for their trust and to the orchestra for their support in this marvelous adventure. The weekend before the first rehearsal was obviously very stressful, since I had never opened the score of the Rachmaninov 2nd Symphony before. Just by the fact, that this symphony is so long – it's an hour of music and learning it in 48 hours was a big challenge. But I have always worked well under pressure (sometimes I think that's more of a curse than an advantage) and I was very motivated by the attitude of the whole team – I could feel that everybody was rooting for me and they expect the best.
Rehearsals were exhausting, because the material was so fresh for me – it feels like double the work, when you try to plan the time properly, react to what is happening and at the same time the material is so fresh in your brain. But again – the very open, supportive attitude of the whole orchestra helped me a lot and I think we built up a trust, that let us enjoy the music making during the concerts. And that was the best part. I can clearly remember a moment during the first performance, and I think it will stay with me for a long time, when it all was going so smoothly, I felt such a beautiful connection to the music and with the orchestra and I thought "Huh, now I remember why I wanted to become a conductor in the first place".
What are your interests outside of music?
Sports and healthy lifestyle. My first choice of studies when I was a teenager was physiotherapy and up until I went to Vienna I was actively training and competing in various disciplines (400m run, swimming, skiing, basketball and so on). After suffering from a series of injuries, also caused by conducting and music-making (tennis elbow), I developed an interest in methods of self-regulation and healthy performance practices. As a consequence, I graduated from postgraduate studies in Music Physiology at the Music University of Vienna, and occasionally I am giving advice and guidance to musicians and non-musicians about preserving their physical and mental health within the very demanding requirements of our present society.
I enjoy reading classical literature very much (I picked up Thomas Hardy as preparation to my move to Poole), although after a whole day of reading scores a good movie is often my first choice.