Arts University Bournemouth (AUB) have created a stunning exhibition inspired by the music in the BSO's concert, Unrequited Love.
To mark the occasion of AUB sponsoring a BSO concert, a show of work by undergraduate students at the University in Illustration, Costume and Performance Design, will be exhibited in Lighthouse Poole on Wednesday 15 January. Drawing inspiration from the music in the Unrequited Love concert, staff and students will present work focusing on both the life and work of the composers. Specifically, the exhibited work takes as inspiration Hector Berlioz's strange mix of his own private life with the imagined narrative of unrequited love, as featured in his Symphonie Fantastique.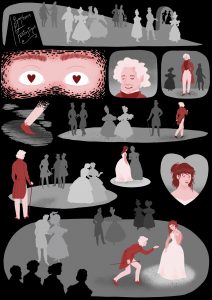 Unrequited Love by Louise Kruse, BA (Hons) Illustration.
There are also stunning costumes created by students from both BA Costume and Performance Design and MA Historical Costume in response to Tcherepnin's 'Prelude to la Princesse Lointaine'. The costumes present a range of designs exploring Princesse Lointaine, a character in a play of the same name by Edmond Rostand performed in 1895.
Rostand's play was written for Sarah Bernhardt and was based on the theme of the poetry of the 12th-century troubadour, Jaufré Rudel and his love for Hodierna of Jerusalem. The concept of a 'princesse lointaine' was thenceforth coined and has become a stock definition of an ideal but unattainable woman. Students were asked to research and explore the character and to curate an interpretation of this enigmatic character. The designs produced in both analogue and digital formats reveal the students' conceptualised ideas of 'the ideal but unattainable woman', explored through the use of colour, texture and silhouette.
The concert this evening is also an occasion to warmly welcome Professor Paul Gough as Principal and Vice Chancellor of AUB, a post he took up at the beginning of the year. His keen interest in music will inform the continuing Academic Partnership of AUB with the BSO.
The project takes place in two stages featuring a private pop-up exhibition on the night of the concert and a complete exhibition after the concert in the Live Project Space at AUB.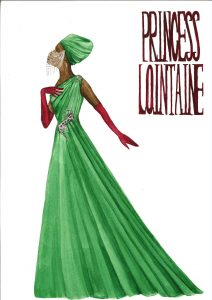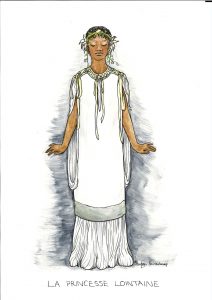 Left: Sebastián Domínguez, BA (Hons) Costume and Performance Design.
Right: Ruby Enticknap, BA (Hons) Costume and Performance Design
The featured image at the top of this post was created by Abigail Winson, BA (Hons) Illustration