This February saw a ground-breaking concert with two inclusive ensembles, RNS Moves and BSO Resound, performing the world premiere of Kate Whitley's new work Falling at Lighthouse, Poole. We caught up with Assistant Conductor Tom Fetherstonhaugh and asked him about the preparation involved and what he hoped audiences took away from it.
How does working on a world premiere performance differ from rehearsing and performing a work that is already well known?
Preparing for a premiere is always a very exciting prospect: a brand-new piece which is waiting to be shown to the world for the first time. One of the joys about working on a commission is that it offers the chance to work with a composer directly. Being on the journey from a piece's inception to its rehearsal (and finally to its first performance) is a very special thing, and it was wonderful to work alongside Kate [Whitley] for this project.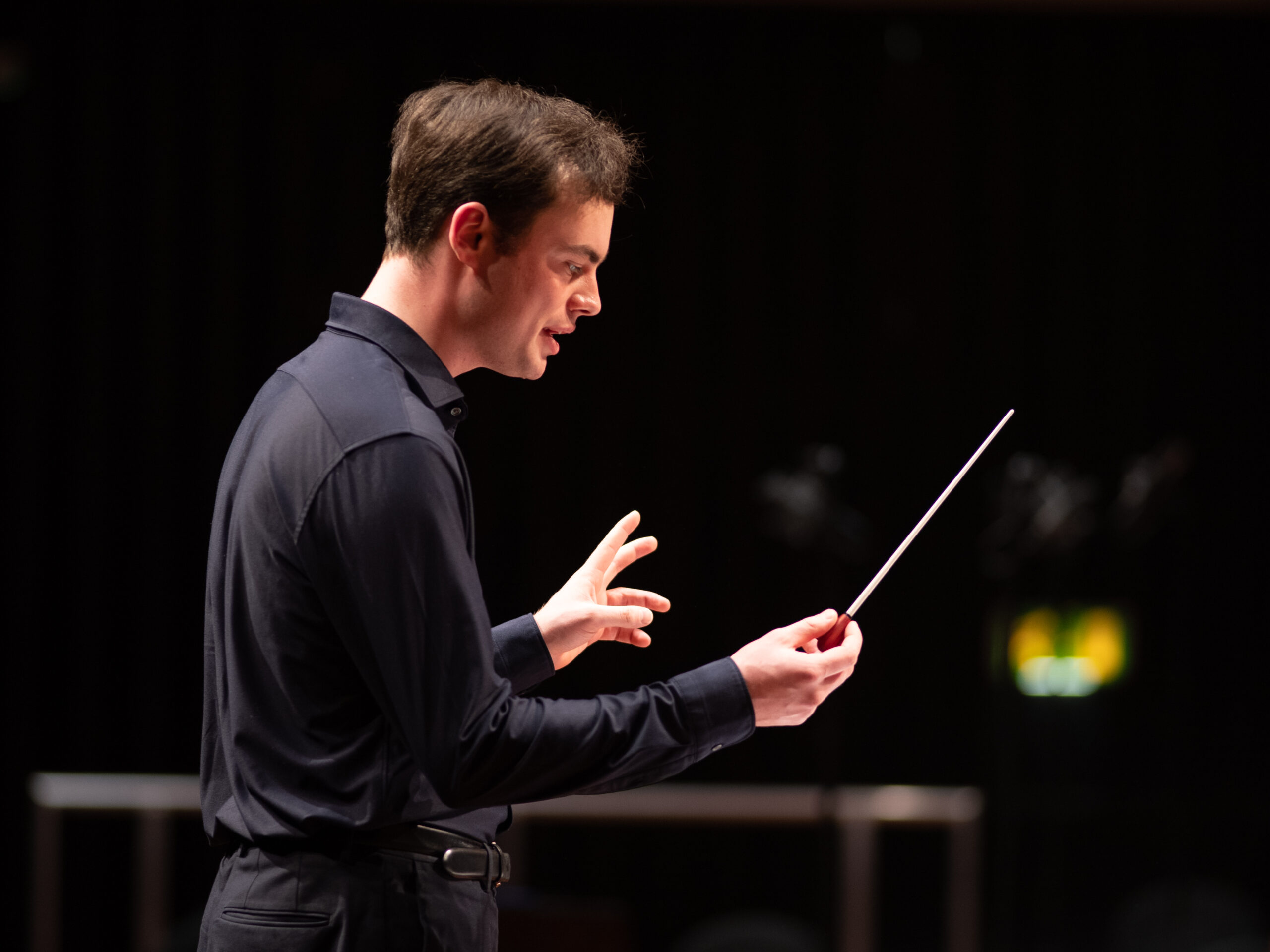 This project featured two inclusive groups — RNS Moves and BSO Resound — alongside a symphony orchestra (Bournemouth Symphony Orchestra and Royal Northern Sinfonia, respectively) on the one stage. That's a lot of people! Did your approach change?
The forces of RNS Moves and BSO Resound contain instruments that are not conventionally in a symphony orchestra setting, for example the Linnstrument (an expressive touch-operated synthesiser) and the Headspace (a virtual instrument operated by breath and head movements). It was wonderful to bring these new sounds on to the orchestral stage and to hear a new sonic palette for the first time.
What do you hope audiences took away from the collaboration?
This ground-breaking coming-together of musicians with diverse needs and musical backgrounds showed, with full force, that extraordinary emotional impact can be created when people are brought together in an inclusive way. Collaboration was at the heart of the project, and the overwhelming audience response at the premiere was a heartening affirmation of the strength of mission that the musical partnership set to achieve.
How did you approach the challenges of the pandemic, did you find positive opportunities or perhaps space to undertake things you otherwise may not have done?
Like it shook the whole world, the pandemic greatly impacted music. Orchestras were particularly affected: a large group of people in the room simply was not possible for so long. Nonetheless, Covid highlighted the necessity of the arts and gave an opportunity to rethink the status quo. Much innovation and progression came as a result of this monumental moment in history, and classical music was no exception in this desire to move forward.
Read an article on BBC News about the concert here. To read the full press release click here. To find out more about adaptive instruments and accessible music technology, you can read more here.
Allianz Musical Insurance is a valued long-standing Partner of the Bournemouth Symphony Orchestra and over the past five years. They take an active approach to supporting musicians and the music industry, in addition to providing insurance for musicians their musical instruments and equipment. This is demonstrated by our partnership, which aims to ensure a creative and vibrant world of inclusive music-making in communities across the South West through continued support of BSO Resound, BSO Young Associates and Associate Musicians.
Gallery