Anna Korsun becomes our Composer-in-Residence in 2023, and we'll give the world premiere of her new orchestral work Terricone at Lighthouse, Poole on Wednesday 11 January. Here are 5 things you might not know about Anna…
Born in 1986 in Donetsk, Ukraine, Anna is a composer, sound artist and performer based in Germany.
Her works have received performances across Europe and Canada — and BSO Chief Conductor Kirill Karabits has previously conducted her music.
As well as composing, Anna also performs as a soprano and keyboard player…
She comes from a family of classically-trained musicians, both her parents playing the accordion. Unsurprisingly, this was the first instrument she started learning aged six. She started learning the piano shortly afterwards and by seven was composing.
From 2005 to 2009 Anna studied at the Tchaikovsky National Music Academy of Ukraine in Kyiv.
Her undergraduate studies were comprehensive, including, she explains, 'along with composition, other music subjects – solfeggio [aural skills such as sight reading], polyphony, harmony, history of world music, history of Ukrainian music, Ukrainian folk music, folk music of countries of ex USSR, history of Russian music, instrumentation, orchestration, analysis of musical forms.'
Anna's music has been succinctly summarised by the German musicologist Ingo Dorfmüller, when he observed that, 'Often she takes a single theme, idea or vision and pursues it into depths so profound as to become existential.'
Her compositions explore the human voice in combination with acoustic instruments, as well as with electronic sourced sounds. In some of her pieces the musicians play more than their own instruments, it might be junk material, toy instruments or they may be expected to sing too!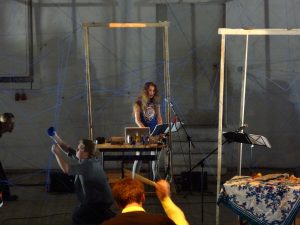 She has won many prizes….
Including the Gaudeamus International Composers Award, the Rome Prize (Villa Massimo) of the German federal government and the Berlin Art Prize. Recent works include Audioguide for singing orchestra (2018), In The Cage for string quartet, cembalo and fence (2022), and MAPEBO for singing ensemble (2020).
To hear the world premiere of Anna Korsun's new piece Terricone come along to Lighthouse Poole on Wednesday 11 January.