A Requiem of reflection on a year of great upheaval, events that resounded around the world and when climate change really came to the fore. Written for chorus and four soloists plus orchestra it is a thrilling work based around the traditional religious liturgy but with added lyrics sourced from quotations by Martin Luther King Jnr, JK Rowling, Khalil Gibran and Joaquin Phoenix, as well as the last words by George Floyd – "I can't breathe!"
Below is a plan to help you see what seating areas are available for purchase. All seats are unreserved in each seating area. Some seats in the Nave and Crossing areas have slightly restricted views due to pillars. All seats in the Quire have limited view of the performance area.
Tickets will be available to purchase on the door from 7pm on the concert night.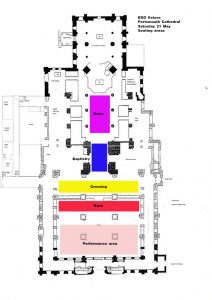 Works and composers
Mozart
Symphony No.35 'Haffner'