The rich history of the BSO appears in the smallest of places, including timpani parts.
This week, the orchestra are performing Beethoven's Piano Concerto No.4 alongside Alfredo Ovalles and led by our Young Conductor in Association, Marta Gardolińska. Both of their names will be added alongside the likes of Constantin Silvestri, Sir Charles Groves, Solomon and even Dame Myra Hess, on a neatly kept list on the inside cover of the timpani part. (As shown by the main image on this this page.) Discovered in the BSO library, this list dates back to 1924 and was first created by W.W Bennett, the timpanist of the BMO between 1921 and 1948. He was often praised for his rare musicianship by the London critics of the time and even made the BSO a family affair, as both his father and son were also percussionists in the orchestra.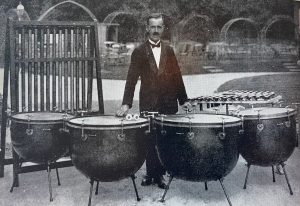 1930: W.W Bennett before a performance in the Winter Gardens.
We couldn't help but spot our now Principal Conductor, Kirill Karabits, also on the list so we had a quick chat with Geoff Prentice, our Principal Timpanist, about this little record. He has been maintaining it since 2009, when he first joined the BSO and discusses a few of the names on the list.
Although this 1920's set is now retired and we are using new, shiny, Breitkopf & Hartel parts now, the set will remain in the library for future reference and remain a part of the BSO archive. With thanks to the BSO library and Geoff Prentice.
Marta Gardolińska conducts Bournemouth Symphony Orchestra in Beethoven's Piano Concerto No.4 with pianist Alfredo Ovalles; in Plymouth (5 Feb), Exeter (6 Feb), and Portsmouth (7 Feb).
#Beethoven250