Prepare to set sail on a musical voyage. BSO Young Explorers: Sea, Voyages & Hope - a three-week series of workshops from Monday 8 June - Friday 26 June.
These workshops introduce children to making music as they learn to make their own works, take part in warm-up exercises, and rehearse two newly-commissioned nautical songs to commemorate the 400th anniversary of the Mayflower's pioneering voyage. The project culminates in a group performance. The workshops are designed to support Key Stage 2 curriculum, but can be enjoyed by all ages.
Friday 10 July
Final Performance!
Haul Away

Out In The Blue

YouTube Playlist
Catch up on the previous videos on the YouTube playlist below!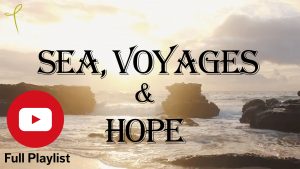 James' further listening playlist
If you would like to further your classical listening experience James has put together a playlist for you all to listen to – expanding on the Sea, Voyages & Hope theme.
Feedback: If you have taken part in the Sea, Voyages & Hope 3 week programme, we would love to hear what you thought about it so we can improve programmes in the future. Please take part in this short survey.
To deepen your learning take a look at the extra learning resources on the tab 'Additional Resources'.
Participatory Songs
James gives a short introduction for the two specially created pieces, a body percussion work called Haul Away and a fanstastic sea-faring song, Out In The Blue below. Click on the additional resources in the box on the right to watch all of James' tutorial videos.